Welcome to the website for Deep Steam Carpet, Upholstery & Tile Cleaners. We are fully insured and offer outstanding residential & commercial Carpet, Upholstery , Tile & Grout, and Area Rug Steam cleaning services. We serve Paradise, Oroville, Durham, Hamilton City, Orland, and Chico CA (and surrounding Butte County areas). We offer uniformed, trained and experienced technicians (often the owner). Our estimates are free and we offer winter specials!
Our cleaning is second to NONE and all work is guaranteed. We are excited to bring the LATEST CLEANING UNIT TO THE NORTH VALLEY! We are always looking to be the best at what we do and this new unit will help us accomplish that task. This NEW high efficiency unit uses about a THIRD less water while still cleaning whatever we are working on to like new conditions! There are a lot of carpet cleaners out there and we strive to make your choice easy.
Top notch equipment and more experience than any one makes your choice easy. Deep Steam Cleaners can clean your carpet, upholstery & tile to truly like new conditions! Feel free to contact with any questions you may have and book a day of fun for your home or business!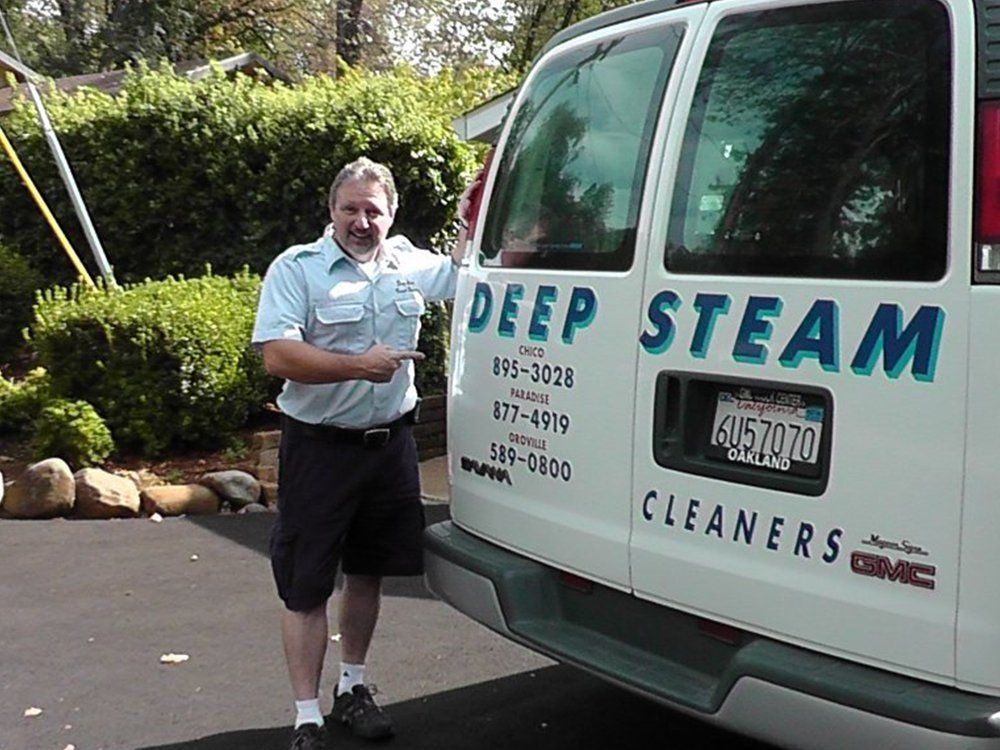 "Our Customers say we out clean them ALL!"
WE USE THE LATEST VAN-MOUNTED SYSTEM USING THE VAN MOTOR NOT A SMALL PORTABLE ENGINE
You'll "See the Difference" with our truck-mounted, carpet cleaning system.
NOW OFFERING TILE AND GROUT CLEANING/SEALING!
The secret to fresh, clean carpet lies in our ability to power clean and remove all bacteria laden soil down to the carpet's backing. Only a whisper quiet hot-water and vacuum hose comes into your home. We'll return that freshness you remember when your carpet was new, and we'll give you the confidence that this time your carpet is really "baby fresh".
We offer today's MOST EFFECTIVE CLEANING METHOD!
MOBILE PLANT- thorough extraction of abrasive soil and residue. Our self-contained mobile plant cleans DEEPER, leaves carpet drier and extends carpet LIFE! The choice is yours...do you want a company that blasts through your home or one that truly takes the time and gets you that DEEP STEAM CLEAN feeling?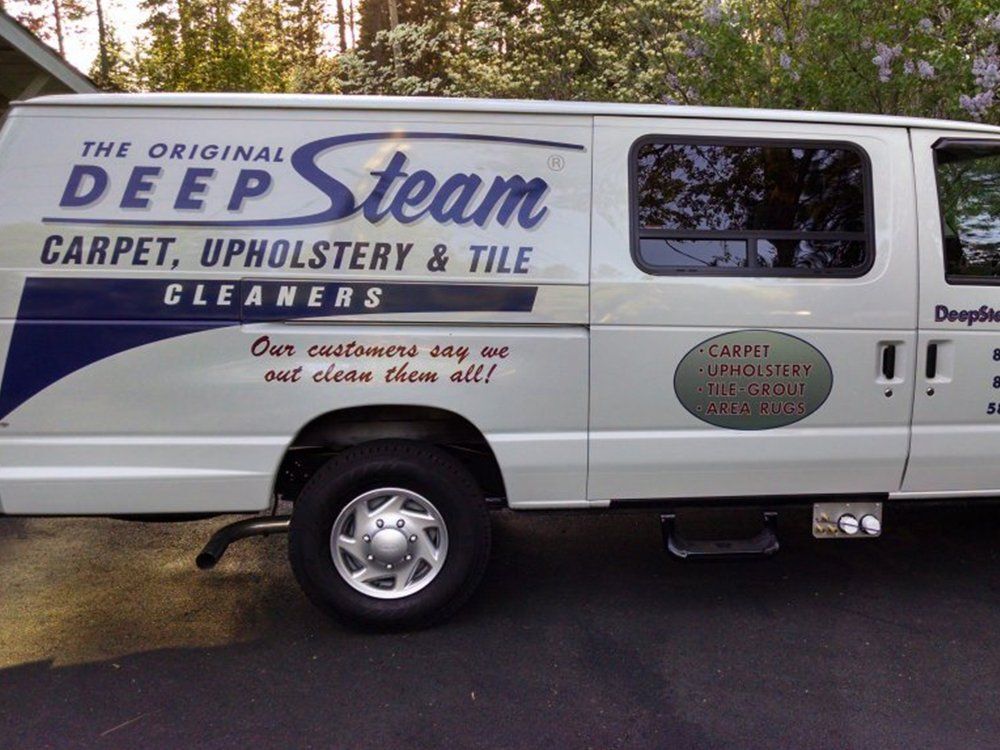 RX-20 Rotary Cleaning has the best agitation and extraction all in one! The self-powered RX-20 consistently cleans all areas of the carpet, as operators physical strength is not as important. It applies the power of 5 men simultaneously cleaning, returning carpet fibers to a like-new fluffy condition.
How does it work? Five powerful cleaning heads rotate over the carpet, flushing and removing deeply embedded soil from all sides of the carpet fiber. A scrub wand pushing back and forth just can't compete with the 650 hot water injections and extractions per minute that the RX-20 produces.
HOW WILL MY CARPET APPEARANCE BE IMPROVED? Your carpet will regain its natural resiliency and will have a freshly washed appearance. Traffic lanes you once thought impossible to clean will be restored, giving you the freedom to rearrange your furniture again!
RESTORE YOUR CARPETS HEALTH! Bottom line: Deep Steam's brushless, rotary cleaning restores carpet color and resiliency in a one step process. WE CLEAN UPHOLSTERY AS WELL!
Deep Steam Cleaners has been offering Upholstery Cleaning as well as Excellent Carpet Cleaning for years! We use some of the best cleaning tools in the business. Our upholstery cleaning tools use the new 'jetless' technology that cleans fibers extremely well with out over-wetting. We boast more experience than most as we have been in business since 1964!! We are a Family owned and operated business. We focus on providing high quality services using our hot water extraction process. We out clean the rest on Carpet & Upholstery using our NEW truck mounted equipment. Our clients who have tried the rest say we are simply "THE BEST". For more information please feel free to contact us at (530) 895-3028 877-4919 or 589-0800. Like us on Facebook! If you enjoyed our service please leave a review! Thanks!