The secret to baby fresh, clean carpet lies in our ability to restore matted fibers to a like-new appearance. Our brushless, rotary cleaning restores carpet color and resiliency in a one step process.
Some frequently asked questions and answers about rotary cleaning:
A: Unlike the back-and-forth motion of a scrub wand, brushless rotary cleaning has circular action that cleans all sides of the fiber.
A: Rotary action actually flushes and then simultaneously removes all bacterial laden soil through over 650 hot water injections and extractions per minute.
A: Your carpet will regain its natural resiliency and will have a freshly washed appearance. Traffic lanes you once thought impossible to clean will be restored, giving you the freedom to rearrange your furniture.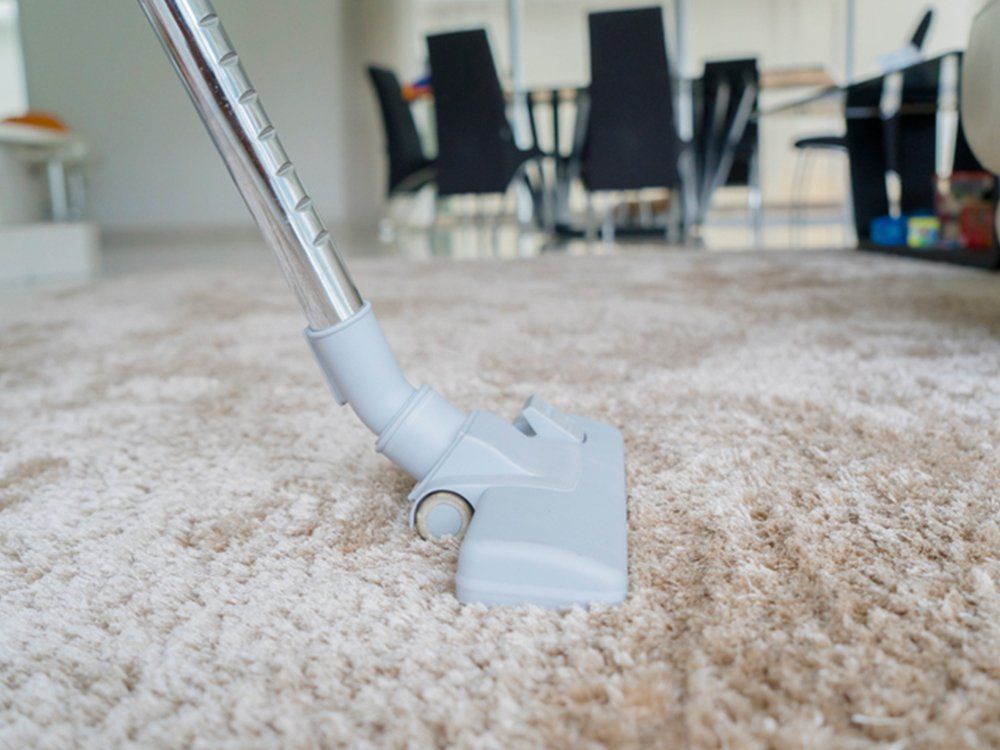 A old rotary scrubber has good agitation, but a lack of extraction can over wet and damage carpet. A scrub wand has good extraction, but forward and backward cleaning action depends on manual labor, operator strength and endurance. Our NEW rotary cleaning provides the best agitation and extraction and produces better overall results.
The self-powered RX-20 consistently cleans all areas of the carpet, as operator's physical strength is not as important. It applies the power of five men simultaneously cleaning, retuning carpet fibers to a like-new fluffy condition. You can finally change your furniture around!
Read further about our cleaning services on our Upholstery page and then contact us today to restore your carpet!
DEEP STEAM CLEANERS CLIENT ORIENTATION LETTER
DEAR CLIENT WHAT TO EXPECT & HOW TO GET READY FOR SERVICE
First Thank You for trusting us with your fine furnishings. When we are finished, your home will be sparkling, fresh and beautiful! Here are some suggestions to help you get ready for your cleaning day.
1. Please advise your Cleaning Specialist about any special requirements to follow before they move your furniture. (such as weak legs, loose tops, etc.)
2. Please thoroughly vacuum your carpets (especially high traffic areas) before we arrive. We can do this if required for a small fee. Just let us know.
3. Please pick up any low hanging draperies, bed skirts, or clothes in areas we will be cleaning.
4. Remove all breakable items from furniture that will have to be moved during the cleaning process. This would include items inside an item as breakables could shift when moved.
5. Any small pieces of furniture such as dining room chairs, magazine racks, etc. that you can remove form the area being cleaned will help us out.
6. China cabinets, entertainment centers and aquariums can't be moved unless emptied. However, we can edge closely around the base of items so as to not be noticed.
7. Please call to your Cleaning Tech's attention any spots or stains which may require special techniques and or spotters. Identify the stain if possible.
8. For your pet's peace of mind (and ours!) please put them in a safe place where our cleaning won't disturb them. Also, beware a door will have to be open for hoses.
9. We will require a outside water faucet. Please advise us of the closest option.
10. A special note about odors: We do everything possible to reduce or eliminate pet odors. However, due to the depth of contamination, 100% success may not be attainable. Also, after cleaning you may notice an elevated odor due to higher humidity levels. We do offer advanced optional levels of odor removal. Please ask or Cleaning Specialist for more information.